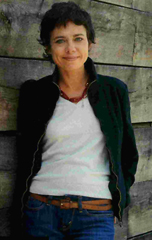 Born in Sofia in 1968, living in Paris since 1991, Rouja Lazarova writes in both French and Bulgarian languages.

She studied French literature at the Sofia University, then political sciences at the Institute of Political Sciences in Paris (Science Po). She works as a freelance journalist for Bulgarian and French print media. Her job as a Paris-based correspondent for the BBC's Bulgarian section (1998 – 2005) and for the French press group "Moniteur" (2000-2013) were the highlights of her freelance career.


In Paris, Rouja slightly moved to French language. Her fourth novel Mausolée (Mausoleum) had an amazing success both among critics and readers in Bulgaria and France.


In her writings, Rouja Lazarova explores with obsession ghosts from the totalitarian past – fear, violence, mind-control – but mixes them with some new themes, beauty, desire, love. Her style is vivid and slightly ironic.